Our Latest Issue
The BN Expediter – April 2022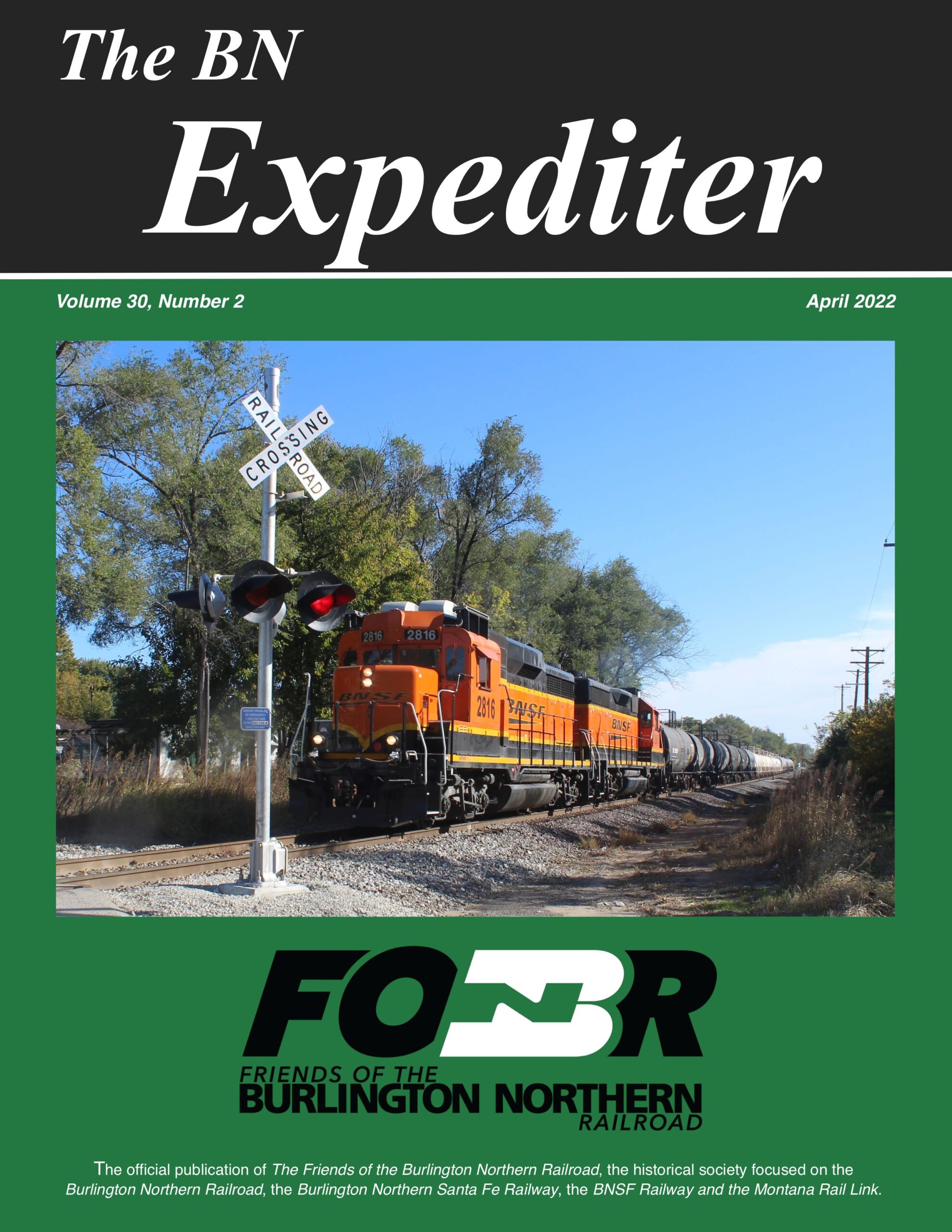 The April 2022 issue (32 pages) contains:
The FOBNR Freight Car(s)
The two N scale FBNX cars visit the DeNTRAK modular layout system, and the HO scale FBNX car visits Alan Schroeder's Burlington Northern – Marias Pass layout. Photos and descriptions of their visits to several locations on their layouts.
Memorial for Earl Currie, by Dave Burns
Earl Currie, a long time member and prolific contributor to the FOBNR, passed away in December 2021. Includes a list of articles Earl wrote for The BN Expediter, and another list of six books written by Earl that will be for sale from the FOBNR website.
Bruce Gillaspie: Oral History. Part 1 – Demurrage Clerk to Manager of Caboose and Locomotive Utilization.
Bruce worked for the CB&Q, BN and BNSF starting in 1964 up to his retirement in 2006. In part 1 he tells us about working his way up through the ranks to a point where he was managing the department that assigned every locomotive and caboose to every train on the BN system on a daily basis.
Over the Top
Overhead views of BN locomotives SD45 6467 and SDP45 6596, showing lots of roof details.
Building BN Caboose 12334
B&W builders photos taken during the construction of the caboose showing the steps along the way, plus detail photos of interior and exterior of the completed unit.
Right of Way: BNSF's Hannibal Subdivision (the K-Line) from Burlington to West Quincy
A north-to-south traversal of a completely "dark" (unsignaled) subdivision, with descriptions and photos of the interesting locations and trains along the line.
Purchasing Back Issues
Purchase back issues of The BN Expediter.
View a sample issue of The BN Expediter.
Contributing
Payment for articles or photos.
Information about submitting digital images
Contact the editor to contribute:
Dave Poplawski, Editor
The BN Expediter
7733 Copper Corner Drive SE
Caledonia, MI 49316
Advertising Policy