Our Latest Issue
The BN Expediter – July 2022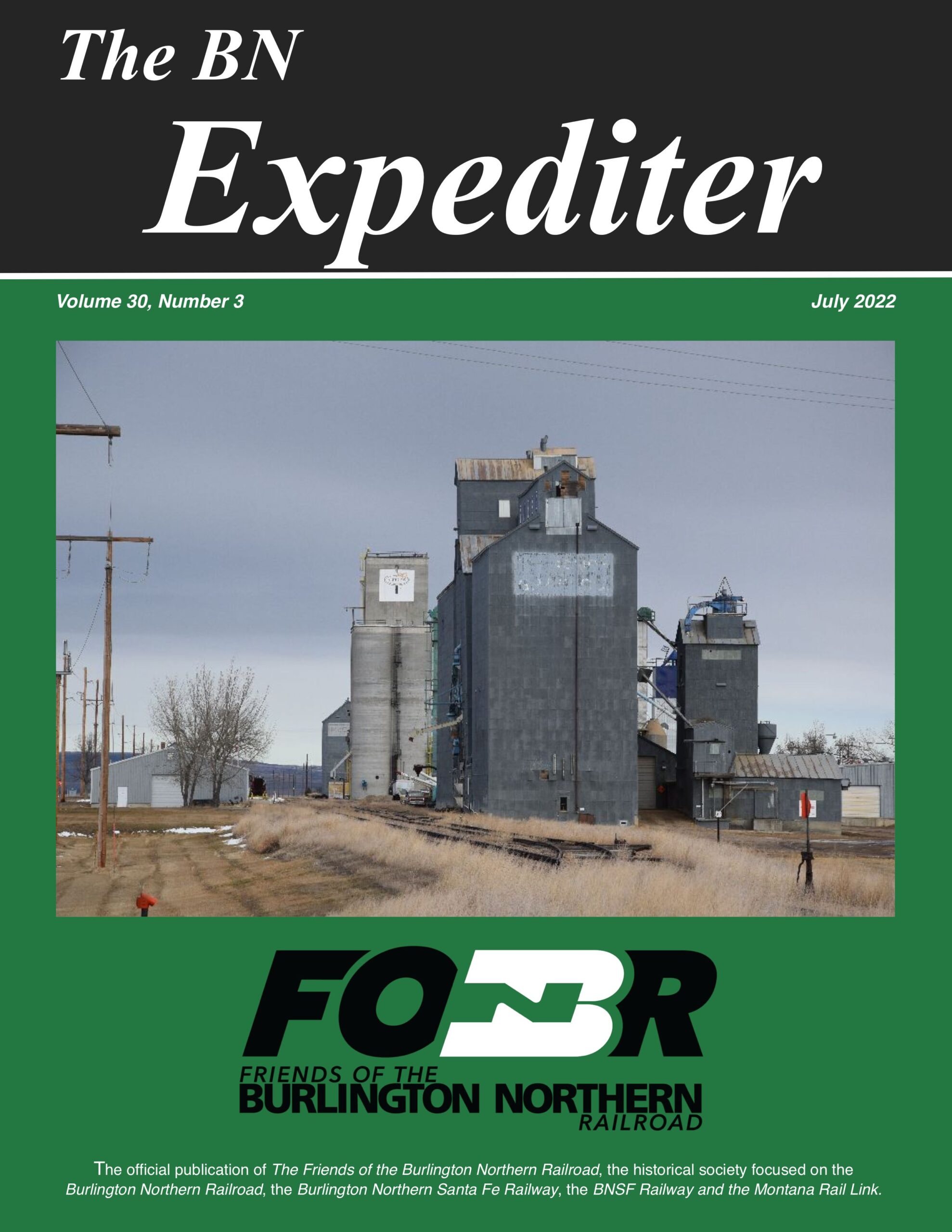 The July 2022 issue (32 pages) contains:
Memorial for John F. Strauss, Jr.
John, a long time member and prolific contributor to the FOBNR, passed away in March 2022. Includes a list of articles John wrote for The BN Expediter, a photo of him along with the attendees at the 1994 convention that he organized in Seattle, and an excerpt from his BN Operational Chronology, a 100 page history of the BN that he donated to the FOBNR and we continue to sell.
The FOBNR Freight Car(s)
The two N scale FBNX cars visit Bill Kepner's South Penn Railroad, and the HO scale FBNX car visits Bob Welke's Wisconsin & Upper Michigan. Photos and descriptions of their visits to several locations on their layouts.
Contact Corner: BN/BNSF 2968
A history of this unit, from it being wrecked as GM&O GP35 #613, to ICG #2512, and finally to BN/BNSF GP39V #2968, including photos in all its BN/BNSF paint schemes.
Bruce Gillaspie: Oral History. Part 2 – CAPMAC to Retirement.
Bruce worked for the CB&Q, BN and BNSF starting in 1964 up to his retirement in 2006. In part 2 he describes his participation in the conversion of manual to computer assisted locomotive scheduling, managing the mechanical desk, and retirement and a look back at significant points in his career. Includes photos of mockups and early versions of computer systems for locomotive scheduling and utilization.
The Last BN Passenger Train, by Dan Simmering
A postcard with an RPO postmark of April 30, 1971 on BN passenger train 28, the eastbound Western Star, sparked the discovery of it being the last BN passenger train to depart from its start station before Amtrak took over the next day. Includes the postcard, a detailed record of the discovery, along with an excerpt from John Strauss's description of the train from the April 1983 issue of The BN Expediter, plus a photo of (sadly) a different EB Western Star in Spokane.
BNSF's Big Sandy Subdivision, by Michael Ridout
The Big Sandy Sub is part of what once was a busy line, with passenger service, connecting Havre and Great Falls, Montana. This photo essay shows most of the named places along the line, including what remains along the abandoned section between Big Sandy and Fort Benton.
Purchasing Back Issues
Purchase back issues of The BN Expediter.
View a sample issue of The BN Expediter.
Contributing
Payment for articles or photos.
Information about submitting digital images
Contact the editor to contribute:
Dave Poplawski, Editor
The BN Expediter
7733 Copper Corner Drive SE
Caledonia, MI 49316
Advertising Policy