Our Latest Issue
The BN Expediter – January 2023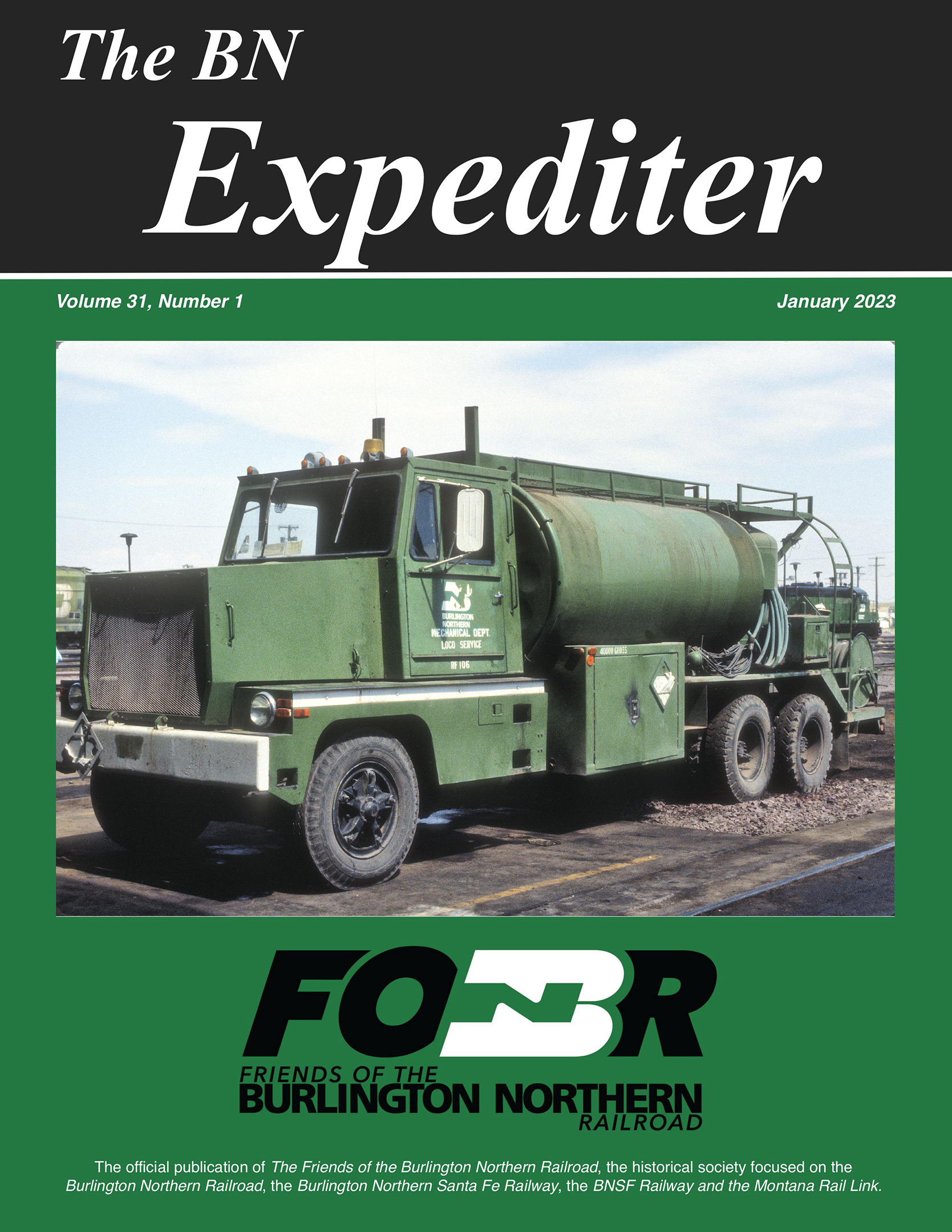 The January 2023 issue (32 pages) contains:
Presidents Message, by Benjamin Hucker
An introduction of our new president and an update on the status and plans for the future of the organization.
Big Sandy Followup, by Michael Ridout
Photos and discussion of often overlooked small items along the right of way of the Big Sandy Subdivision, including date nails, tie stamps, and a fragment of GN/BN dining car China.
The FOBNR Freight Car(s)
The HO scale FBNX car visited Dave Waraxa's Kootenai River Sub, and the two N scale FBNX cars visited Pat Lana's Crandic Lines. Includes photos and descriptions of their visits to several locations on their layouts.
Don Maze: Oral History, Part 1 – Stockyard Clerk to Trainmaster
An interview with Don about his background and employment on the CB&Q, and then BN, from 1964 through 1982.
EMD/BN Demonstration Train for Chinese Railroaders
A telegram authorizing a special movement of Train 75 from Wenatchee to Seattle to demonstrate to several Chinese railroad managers the operation of new EMD SD40-2 locomotives over Stevens Pass.
BN's First Cherry Blossom Special, by Dennis Shogren
A first hand account of riding the passenger special in 1971 from Seattle to Cashmere, Washington, and back, including photos of the locomotives and cars on the train.
BN Trucks, by Dennis Pehoski
A photo essay of 15 maintenance-of-way trucks in green, orange and gold. Includes photos by Doug Buell, Arden Kruass, and Robert Johnson from Dennis's collection.
BN in Minot, North Dakota, in 1977/78, by Carl Lehman
Several photos of BN action in and around Minot, with extended captions elaborating on the significance of each photo.
Purchasing Back Issues
Purchase back issues of The BN Expediter.
View a sample issue of The BN Expediter.
Contributing
Payment for articles or photos.
Information about submitting digital images
Contact the editor to contribute:
Dave Poplawski, Editor
The BN Expediter
7733 Copper Corner Drive SE
Caledonia, MI 49316
Advertising Policy