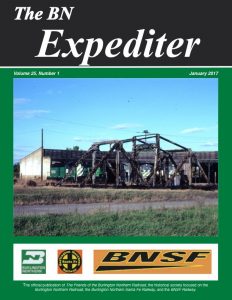 The January 2017 (24 pages) issue contains:
Working on the BN, 1970-71 – an Oral History
An interview with Paul Brittain who worked for the BN in its earliest days around Eola, Illinois. He shares his experiences of being hired, working as a switchman in the yard and on various way freights to Savannah and Streator, Illinois.
Before, Then and Now: Grand Island Crossing
A photo record of BN's crossing of the Union Pacific in Grand Island, Nebraska. Photos from before the new flyover, the year it was constructed, and now.
Reno Jct, May 1995
A photo record of coal train action near Reno Jct, Wyoming, with Cascade green, Grinstein and Oakway power. The main was still 2 tracks, but was in the process of being expanded to 3.
Buy a copy for $5:
Click below to see your order, modify your order, or to check out: