FOBNR Name Tag
Friends of the Burlington Northern Railroad

your name will appear here
If you are a member of the FOBNR, why not show your friends and family by ordering a great looking FOBNR name tag? The tags are cascade green plastic, with YOUR name along with "Friends of the Burlington Northern" engraved in white letters. They measure 1″ high and 3″ long and look like the image above.
They come in one of three different attachment types: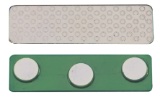 Magnetic
Safety Pin
Two Pin
The cost is $10.00.
Name tags cannot be purchased on-line, so you must print out this form, fill it out, and send it and your payment to the company store.