by Earl Currie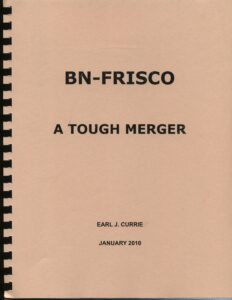 An essay on the BN-Frisco merger is based on the experiences and evaluations of "those who were there" during the years of tumult, tension and progress that occurred on BN in the years following that merger. The essay contains several photographs and drawings.
Written in 2010, soft cover, comb bound, 94 pages.
The cost is $13 which includes postage and handling.
Purchase on-line:
Or, print this form, fill it in and send it with your check or money order to our company store.